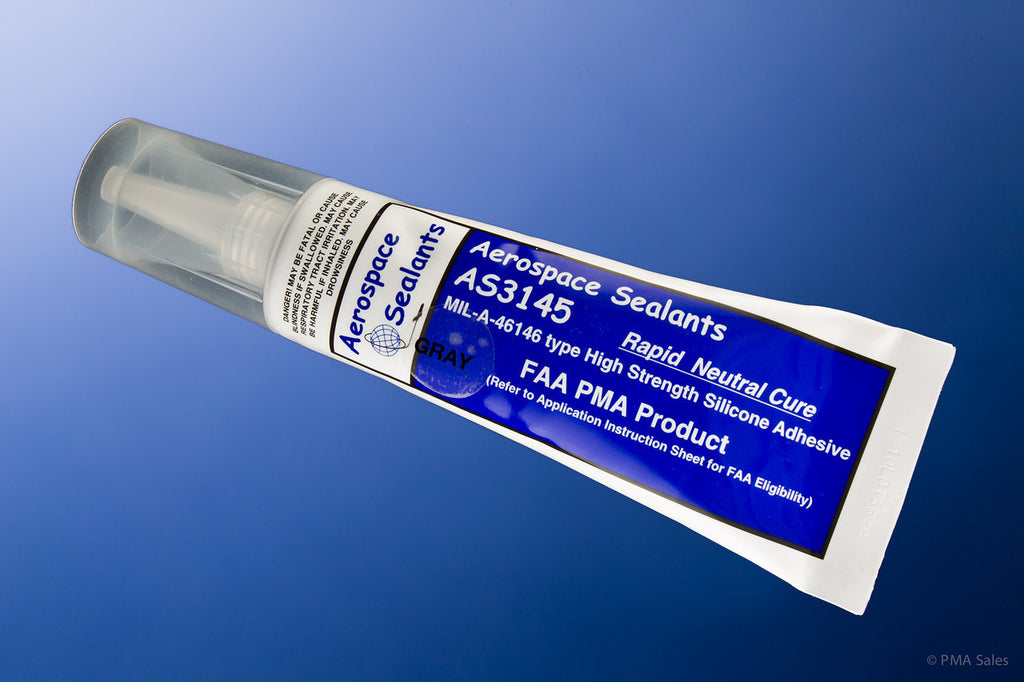 AS3145P Gray Silicone RTV Adhesive Sealant 3.0 fl oz Tube
$ 29.28
Lead-Time: Ship usually in 3 business days for up to 10 tubes, or in 1 week for quantities beyond.  Expediting may be available upon request.

Minimum 9 months shelf-life
Price breaks available upon request.
REPLACEMENT FOR
Dow Corning 3145 (RTV3145) Gray
Momentive (GE) RTV162
MIL-A-46146* Group II, Type I related materials
AS3145P the same as AS3145 but is colored silver-gray and is a high strength, neutral curing silicone RTV adhesive rubber developed for applications requiring fast development of physical properties and fast unprimed adhesion. AS3145P is a 1 part silicone that when applied to the substrate allows handling of the bonded assembly within an hour. AS3145P works well in manual and automatic dispensing equipment.
Do you need FAA 8130-3 tag? Click HERE.
TDS & SDS

Link to Download Page
This product is available also in 5.6 fl oz cartridge, 10.3 fl oz caulker and 5-gallon pail.

Limitations:
* Testing for referenced MIL Spec is performed in accordance with Aerospace Sealants quality test methods, laboratory conditions, and procedures, frequency and sampling, which are not necessarily identical with the methods, conditions, procedures, frequency and sampling stated or referenced in the listed specification. Any certification will be limited to listed properties and will not imply or state conformity to any other aspect of the referenced specification, including but not limited to marking, packaging, bar coding, testing, or sampling.
** In confined cure conditions, AS3145P may discolor copper in direct contact with the Adhesive
sealant.
Alternate P/N: RTV-3145, RTV3145, 3145 RTV, 3145-RTV, Dow Corning 3145, Dow Corning RTV 3145, Dow Corning 3145 RTV